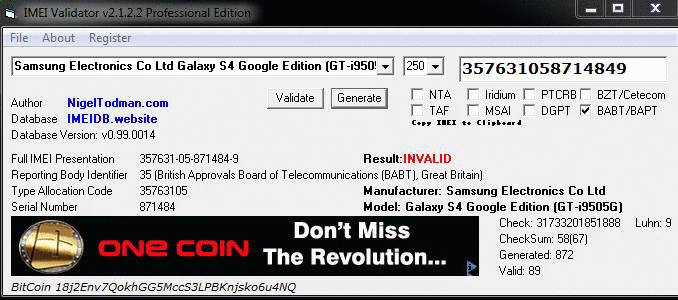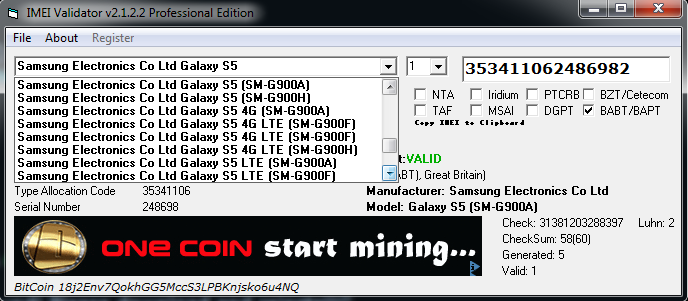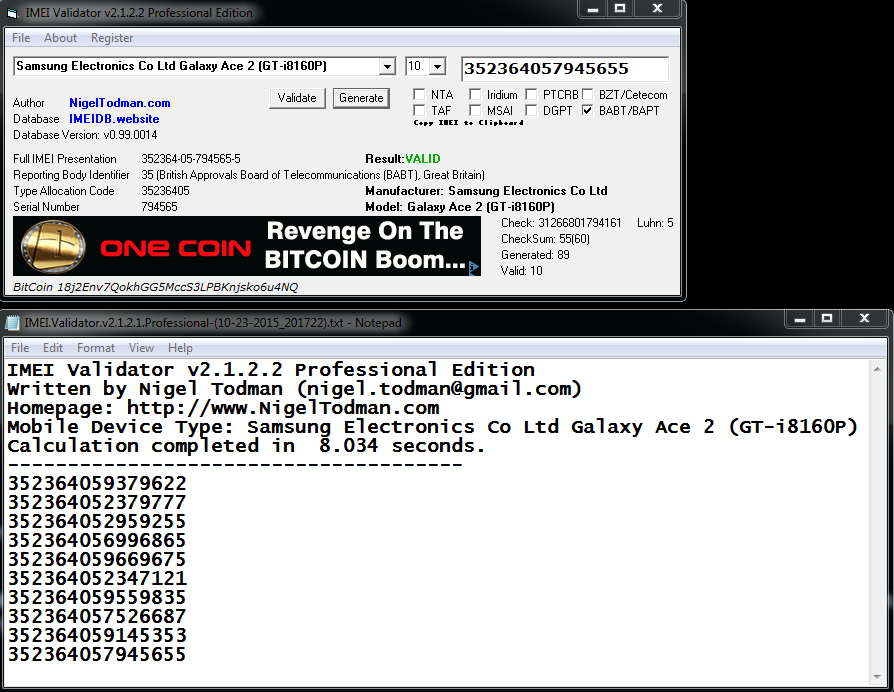 FOR PRICES & TO REGISTER E-MAIL [email protected]
Download v2.1.2.4 Professional Edition
IMEI Validator v2.x Professional, When UNREGISTERED, Still does everything v1.9 Free does. But will also detect any new devices added to the IMEI Database.
All new 2.x Features require registration. E-mail [email protected] for pricing or to register.
Documentation: README
Updates: www.nigeltodman.com/imei-validator/
Changelog
———-
v2.1.2.4 03-07-2016 05:51pm
Using IMEIDB Database v0.99.0017
Now requires Administrator rights
Various code optimizations
Detects 26,495 mobile devices
v2.1.2.3 11-08-2015 01:28am
Using IMEIDB Database v0.99.0015
Added label showing # of devices supported
Reorganized controls slightly
Increase text size on 'Copy IMEI' label
Added first batch of 'Microsoft Mobile' branded devices
Many Samsung models added.
'Blue Tick' Galaxy S4 and 'Porsche Edition' Blackberry
Detects 26,158 mobile devices
v2.1.2.2 10-23-2015 08:50pm
Error Handling: Catches too long IMEI (after filtering), Stops processing it
Using IMEIDB Database v0.99.0014
Main form caption now shows Registration Status
Model Dropdown now includes all known devices!
Can Generate one or Batch Generate for all known devices!
Anything not known can still be validated/generated using Custom
Resized main form and reorganized controls
Various Code optimizations
Added README file
Detects 25,918 mobile devices
v2.1.2.1 06-08-2015 06:33am
Error Handling: Now informs user if IMEI Database is missing, Then exits
Remove 'Registration Activated' message.
Using IMEIDB Database v0.99.0011
Detects 25,902 mobile devices
v2.1.2.0 06-06-2015 02:38pm
Reorganized form layout slightly
Added Samsung Galaxy IMEI Generation (S0 thru S6)
Now has option to submit valid not found IMEI (TAC) to Database.
Label for status now goes Green on VALID.
Using IMEIDB Database v0.99.0010
Detects 25,890 mobile devices
v2.1.1 06-03-2015 04:10am
Now filters IMEI input
Dots, dashes, slashes, spaces and more are all removed
Added 'Copy IMEI to Clipboard' function
TAC value also copies to clipboard on click
Random Generator (Per Make) now selects from twice as many models.
Added even more Samsung Galaxy models.
Also many iPhones & Huawei/ZTE USB Modems
Using IMEIDB Database v0.99.0008
Detects 25,873 mobile devices
v2.1.0 06-02-2015 06:56am
Now using the IMEIDB Database. ( http://www.IMEIDB.website )
Displays local database version installed.
New Database checking/updating coming soon.
Maximum Batch Generation increased to 250.
Added many newer Samsung Galaxy models.
Cleanup on TAC Database (IMEIDB Database v0.99.0004)
Detects 25,800 mobile devices
v2.0 06-01-2015 04:47am
First paid 'Professional' Release
Added Batch IMEI Generation, Up to 100
Added Model Specific IMEI Generation
Automatic saving output to file on Batch IMEI Generation
Added many BlackBerry, iPhone and Huawei Models
Detects 25,819 mobile devices
v1.9 01-25-2015 02:41pm
Changed nigelt.wordpress.com references to NigelTodman.com
Detects 25,682 mobile devices
Final Version
v1.8 01-04-2014 05:45pm
Added support for Custom TAC *
Generate any IMEI once to show TAC Menu.
Added various iPhone Models.
Now supports some iPhone 5 16/32GB Models.
Now supports some Galaxy S4 Models.
Now detecting 25,677 mobile devices
* Custom TAC will use the first 8 Digits of whatever is currently in the IMEI Text box.
v1.6 07-02-2012 02:27am
Did some cleanup on TAC Database
Added support for 30 more TAC's
(18 BB, 2 HTC, 4 Samsung, 4 iPhones & 1 LG)
Now detecting 25,658 mobile devices
Now randomly selects from 8 models per manufacturer
Removed Message Boxes for IMEI status
Added Label for status, Goes red on INVALID.
Renamed from IMEIGen/Generator to IMEIValid/Validator
Minor code optimizations
v1.4 05-08-2012 01:16am
Added drop down menu to specify which Make of IMEI
Options are: BlackBerry, iPhone, Nokia, Samsung and HTC
Has about 5 or 6 randomly selected models for each.
Drop Down only appears after a Generation.
Support for 20 more TAC's, Mostly BlackBerry's and Samsung's
Various code optimizations
v1.3 05-07-2012
Make/Model of phone will now clear with each Validation
Added support for many types of Apple's iPhone
Added many other miscellaneous phones
In total supports 34,791 different TAC's
Various code optimizations
v1.2 05-07-2012
Added checkboxes for various RBI Types
Checkboxes will auto-populate upon Validate
Generate will now attempt only to
make selected RBI type IMEI if any boxes are selected
Minor code optimizations
v1.1 05-07-2012
Supports determination of TAC (Type Allocation Code)
Supports determination of RBI (Reporting Body Identifier)
Supports determination of Serial #
Compares TAC to included list to determine Make and Model
Shows Check computation + Luhn Check Digit & Checksum
Download v2.1.2.4 Professional Edition